Does your Tampa FL or Lakeland based small business need a new phone system?
Are you tired of endless per-phone pricing and long-term contracts by Tampa VoIP providers that act as if they're doing YOU a favor?
You're in luck!  At DataCorps we provide VoIP PBX phone services in Tampa, Port Richey, and the Tampa Bay Area. We solve all of your VoIP challenges using the 3CX Version 18 Professional Edition business VoIP system!  Featuring world-class security, flexibility, scalability, and reliability, all without the hassle of long-term contracts of other phone service solutions.  3CX brings you the flexibility of a broad variety of VoIP phones, paging systems, and features no other VoIP system can bring because other solutions are cookie-cutter/one-size-fits all!
Enough is enough! Break free from long-term contracts, lost features like caller ID, call waiting, unified communications,  paging and intercom, and inconvenient phone choices from another pbx system!
DataCorps implements 3CX because of the ultimate level of flexibility. Built on voice over ip standards, 3CX allows us to attach a massive number of standards-based communication devices to the phone system, enabling us to cover almost any situation with the problems of traditional phone systems.
Boost Productivity & Customer Service with 3CX Pro!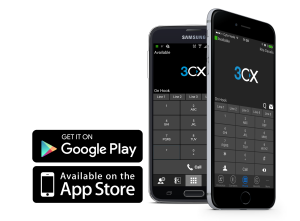 The Pro edition includes all the award-winning features of the Standard edition but also adds fantastic advanced call features that are geared to stepping up your customer service and ensuring your company stays ahead of the competition.
Advanced Call Features:
Never miss a call! Your customers can hang up and still retain their position in the queue. They're automatically called back when they reach the top of the queue.
Review how long your customers have waited in a queue before your employees took the call and see the amount of answered and unanswered calls.
Improve customer service phone calls by screening calls with the 'Listen In', 'Listen In and Whisper' and 'Barge In' features..
Massively increase your employee's productivity by providing advanced call features such as real-time call statistics, wallboards, SLA alerts, a selection of queues and more! The Pro edition also includes seamless Microsoft Exchange Phone book and LDAP integration and more options for unified communications. Call center type features are available.
3CX Pro Key Features:
Monitor the status of queues by seeing how many callers are in the queue.
Log staff in and out of queues.
Review the time your staff logged in and out of queues.
Wallboards - Display real-time queue and call statistics directly on a monitor.
Additional queue strategies include:

Round Robin
Longest Waiting
Least Talk Time
Fewest Answered
Hunt by Threes - Random
Hunt by Threes - Prioritized

Get instantly notified when callers have been in a queue beyond the set SLA time.
Meet your customer service requirements by viewing all call events.
3CX VoIP Security
3CX employs various forms of security and encryption to provide you with excellent privacy and call security. Here is an overview of the security and encryption features in 3CX:
HTTPS is used for any web communication from outside LAN on port 5001 TCP by default, including management console access, webclient, phones provisioning, and 3cx clients presence/UC information. TLS 1.2 and strong ciphers are enforced by default, as per option under Settings / Security. You can run a scan of your HTTPS port with standard tools like Qualys SSL Labs for more details, it ranks in A+ by default.
3cx clients for mobile place calls through the 3CX Tunnel which uses a custom authentication protocol and transmits SIP over TLS and audio over SRTP. The same also applies for the 3CX Session Border Controller to connect remote hardphones.
3cx webclients and WebMeeting uses HTTPS for static content, Websocket Secure for notification channels, and WebRTC with DTLS/SRTP for the actual calling with strongest match of transport (TLS 1.2 by default) and ciphers supported by the browser and server.
Hardphones can be configured to send signalling in Secure SIP / SIP TLS, and media in SRTP, by default they use standard SIP/RTP without encryption other than for SIP authentication digests.
In regards to Secure SIP, the PBX feature is based on a library which uses OpenSSL configured with "high" ciphers suites and TLS 1.2 transport. Some of those ciphers are using 256bit encryption, others 128bit encryption, ranked A by Nmap.
Secure RTP implementation is standard as per RFC3711. This standard defines 3 possibilities: AES-CTR, AES in f8-mode, or NULL = no encryption. We are using the AES-CTR method which allows AES_CM_128_HMAC_SHA1_80 and AES_CM_128_HMAC_SHA1_32 ciphers.
Push notifications to the mobiles clients are also encrypted through Apple APN (TLS over HTTP/2) and Google FCM (HTTPS) standard protocols.
Email notifications are sent through the 3CX SMTP by default, which uses TLS 1.2 for data-in-transit.
Backups can be password protected and encrypted using AES CBC 128 bit,
In addition to all this, there are no default credentials hardcoded, all are random/unique to each entity and complex.
Want cloud for your phone system? Datacorps is a 3CX solution provider in Tampa, FL that can help.
3CX is not only built for in-house installations, it is designed to work in the cloud, as a virtual pbx! With our unique and highly-available cloud platform, your phone system will be secure and ready to serve you and your clients in the event of a power outage or a disaster situation. Stand out from your competition by being available for your clients when they're not.
Want more? How can this get better?

Paired with our relationship with VoIPTools, we can enhance 3CX with any number of the following powerful add-ons - for just a few dollars a day!
Voicemail Manager - forward voicemail to groups, receive text transcriptions, and more!
Recording Manager - manage phone system recordings easily
Surveyor - present phone surveys to callers
On-Call Manager - replace your after-hours answering service with this add-on
Robo Dialer - automate unattended calls to patients, customers, or others using unique contact list.
Audio Scheduler - notify staff of shift changes or break
Call Router - Automatically route inbound calls based on criteria
Emergency Notifier - program buttons on phones for emergency notifications, panic buttons, and alarms
Conference Calling
SIP Trunking
And more...
Who is using 3CX?

Never miss another critical call. Switch to VoIP
It's so simple. If you are looking for phone service solutions in Tampa, FL and the Tampa Bay area, you need our VoIP system with 3CX. Business VoIP service and VoIP phones can beat traditional phone systems for reliablity and can be as easy as using a traditional phone. Call DataCorps Tampa office today, or contact us by filling in the form to the right, to learn more about how a 3CX business VoIP pbx system can improve your phone system and simplify your customer interactions.
Service is available in Springs Fl, Harbor Fl, Sun City, Gibsonton FL,and other cities in the Tampa Bay area.